prof. Josu TAKALA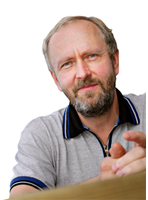 University of Vaasa, Vaasa, Finland, EU

Position: Professor at School of Technology and Innovations, Production, University of Vaasa, Finland, EU.

At the CLC 2022 Prof. Josu TAKALA will present a plenary lecture.

Josu Takala has experience in industry from ABB 1979-1992 and academia. He graduated from Tampere University of Technology M.Sc 1980 and Dr. 1988, Dr. HC 2009 from Technical University of Košice, Slovakia, and Universiti Tun Hussein Onn Malaysia 2015. He is Professor in Industrial Management at University of Vaasa, Finland 1988-, and visiting/adjunct professor in various universities in Finland and abroad. His field is decision making on operative sustainable competitive strategies. He has 650 scientific articles, Co-and Special Issue Editorships, invited speaker and Chairman positions in conferences, activities within university society relationships and programmes, and ownerships in about 10 startups.